The stories of survivors
By Daniela Shapiro
Daniela Shapiro
Writer and illustrator of The Stories of Survivors, Daniela attends The University of Rochester, studying Philosophy with a minor in Legal Studies. She's passionate about moral philosophy and hopes her art and storytelling skills will help her communicate her political and ethical views in a new and relatable way. Instagram: @cds.art
This is not just about learning facts, it is about learning feelings, about empathy.
Rick Parker
Lettering by Rick Parker (born 1946) is an American artist, writer, cartoonist, and educator whose humorous artwork has appeared in The New York Times, The Village Voice, Time magazine, U.S. News & World Report, Life magazine, and various comic books published by Marvel Comics.
Twitter: @RickParkerArt
Stanley K Shapiro
Edited by Stanley K Shapiro, head of Teaming Sure Entertainment Company. He has been a practicing lawyer in New York for over thirty years and has studied comics and graphic novels for even longer.
email: stanleykshapiro@ teamingsure.com
"It's truly powerful and the writing is very accomplished and nuanced. I couldn't agree more as to the importance of getting a work like this to reach young people."
Karen Berger, renowned comics editor, Berger Books, Founder/formerly editor of Vertigo
"I read The Stories of Survivors with real interest. All of the stories are very well realized in this book and are quite unforgettable. They will stay with me."
Kim Deitch, legendary underground comix and avant-comix artist, creator of Waldo the Cat, Boulevard of Broken Dreams, Raw contributor and Eisner Award and Inkpot Award winner
"Daniela's book is quite impressive. The brief nature of each story, the personalized approach, and the style of the drawing all combine to make it a great book for younger people, to open them up to the reality and the horror of the Holocaust."
Rabbi Jeffrey Hoffman, Rabbi-in-Residence, Academy for Jewish Religion
"It is a very powerful and moving work. The artistry is outstanding....My favorite page...takes the reader out of the historical period into the present day, and into the experience of the young woman both grappling with the tragedy and creating a modern response. Wonderful."
Seth Weinberger, Executive Director of Innovations for Learning
"What a wonderful treasure The Stories of Survivors is! It touches me to read about how Daniela experienced the stories of these survivors, and each of her illustrations is moving and immediate....Working with young people, the graphic novel is so much more approachable than a dusty tome. I love that Daniela gave each character a unique look and voice. We would love to see this book used in our school -and in others, as well.
Cheryl Lawson, Executive Director, William A. Lawson Institute for Peace and Prosperity, the Lawson Academy, Houston, TX
PRESS & NEWS
Los Angeles Times!
"Daniela Shapiro enriches the world of the graphic novel, and so enriches the world of readers as well, through her compelling account. Like the film "The Fault in Our Stars," this small book makes the necessary effort to print the tragedy of history to crucial young readers."
Amity Shlaes, author, New York Times #1 Bestseller, "The Forgotten Man: Graphic"
"I found The Stories of Survivors to be terrifically effective as both history and art. Add me to the list of Daniela Shapiro's fans. Her novel definitely proves the point that there's a valid place for comics in Holocaust literature."
Henry Gottlieb, Co-Author of 1,000 Years, 1,000 People: Ranking the Men and Women Who Shaped the Millennium and 1,000 Things to Love About America: Celebrating the Reasons We're Proud to Call the U.S.A. Home
"I am so impressed by all the detail and raw emotion expressed in The Stories of Survivors. Daniela Shapiro really does a great job capturing the humanity of the person in the story and their experiences through a horrible time. I loved how Daniela was very open with her readers on her hardships when creating this graphic novel. It is hard to be that vulnerable to people she has never met....The Stories of Survivors does an incredible job showing great insight to readers on things that should matter and things we may take for granted in a way that would allow the reader to relate to the people in the stories. I found it inspiring that Daniela created this for people her age to remember and create perspective as the time of the Holocaust gets farther and farther in our history."
Perla Aparicio
"I think The Stories of Survivors is a very powerful educational tool. The way in which Daniela begins the narrative in the present, creates a safe space for students and the hope in knowing that there is a positive message at the end -- which is a major component of our education at the Los Angeles Museum of the Holocaust-- to commemorate, educate, and inspire. -- highlighting the importance of the human element and not getting lost in numbers. And this is what I think your graphic novel achieves."
Jordanna Gessler, Director of Education, Los Angeles Museum of the Holocaust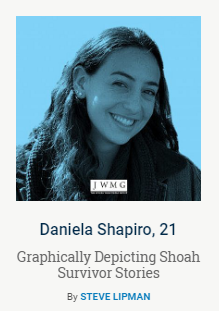 Featured in
The New York Jewish Week's "36 Under 36"
Excerpts from The Stories of Survivors:
Lucille Eichengreen and Eugene Landa
Click a page to enlarge, then scroll right
Contact US
Teaming sure Entertainment Company
225 Broadway, Suite 1803
New York, New York 10007
(212) 693-1076
Outreach@teamingsure.com
Follow us on Twitter: @StoriesSurvive